Hallo! Today, I decided to try something 'new', and be random. ;) You see, I am huge on the performing arts. I love music. I love opera, I love ballet, and I love Shakespeare, but probably most of all, I love musical theater repertoire. I was going in my head through all the musicals I liked earlier, just to count, and I realized a good number of them I loved, I had never seen performed in my life. Hmm... Could there be something behind this? Who knows? But, I suppose I'll list this marvelous bunch of theatre musicals which I have never witnessed, but still obsess over.
Fiddler On The Roof
So, I am still not quite sure how I've never seen either movie or production of this thing up to now. My mom is totally obsessed with it, and has seen it both professionally performed and seen the movie of it. She even had a t-shirt of it when she was in high-school. So, why haven't I seen it? *shrugs* You tell me. But, I love the music so much! I like the song "Tradition", and am constantly getting "Sunrise, Sunset" stuck in my head. Not to mention, I have listened to/tried to sing "If I Were A Rich Man" countless times. I love the idea of Tevye's (is that how you spell it?) character, and the plot sounds good. And yet, I've never seen it. Oh well... A friend of mine will be in a play of it in the summer, so hopefully I will finally see it then.
Ach, I wanna see this one soooooooo badly!!! Especially now that I'm beginning to love Gene Kelly movies. He's just so little-boyish and cute, and it's just adorable to see him make that little grin like a kid being taken to the playground. And then I am quite a fan of the songs "
Good Morning
", and "Make 'Em Laugh", and quite an immense fan at that. And then, the only scenes I've ever seen of it, for the most part, I loved. I love the actual "
Singing In The Rain
" scene so much, and the whole thing is so cute I might just have to take a few pointers from it for my Romantic Comedy,
The Top-Hat Gang
. In fact, I might have to invent a time machine to go back in time and grab Gene Kelly to be in the movie production of
The Top-Hat Gang
, if it ever happens. :) Next time I'm at the library, I'm definitely planning on taking home this one.
Okay, so there's actually a reason with this one why I don't see it. There are certain aspects about the plot that may or may not be a bit off. I couldn't be sure, so I left it alone aside form the music. However, the music is mostly just redos of the original Four Seasons music, so I absolutely loved it! So, even though I won't watch until I can be sure about the plot, I will continue to listen over and over to "Sherry" and "Walk Like A Man".
South Pacific

This is another case of choosing not to see it as of yet. Because, unlike the simple uncertainty of
Jersey Boys
, I actually
know
for a fact that there are some rather distasteful things concerning the background plot of this story. Not the best Rodgers and Hammerstein there is. However, while I may wait a while to watch it, I am completely happy at the moment listening to my two favorite songs from it - "
Some Enchanted Evening
", and "Younger Than Springtime".
Newsies
Okay, this one is kind-of a cheat. I saw the movie version (which I loved!), but I have never seen the Broadway version. In fact, I've never seen it performed at all. Just the movie (which was still brilliant!). I have rare seen a movie with so many frustratingly catchy songs in it. For the movie version, there was "High Time, Hard Times", "King Of New York", and "
Seize The Day
". For the Broadway or movie, there was "
Santa Fe
", "
The World Will Know
", and "Carrying The Banner". For specifically the Broadway, there was "Something To Believe In" and "For Once And For All". It was sooooo awesome! Some friends went to go and see it premiere with the Broadway traveling cast, and they loved it... I want to see it so bad! :D Oh well... Back to listening to "The World Will Know" (my personal favorite from it) for the twentieth time...
Carousel
This was one I had the chance to see, but didn't because I knew it was depressing. I already knew the way the plot went, and was utterly depressed just thinking about watching it. I might muster up the courage to watch it someday, but until that day, I guess I will have to 'walk alone'. ;) My favorite songs from this one are "
You'll Never Walk Alone
", and "If I Loved You" (which is a duet, most beautifully sung in the
cover
by Josh Groban and Audra McDonald, btw. I almost liked that duet as much as "Anything You Can Do" from
Annie Get Your Gun
.
Almost
, that is). ;)
Les Miserables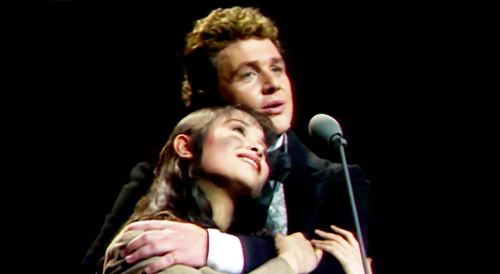 Yes, I know. Marius and Eponine. Unfortunately it was the only really, truly good, picture I could find of my favorite cast.
This is probably the biggest one of all. I seriously obsess over the music in this one, but have never seen one second of movie or performance. I read the book, but, while it was very good to a certain extent, I personally found it very frustrating (so would anyone who loves Jean Valjean and reads it!). Besides the fact that Marius isn't as cool in the books. Okay, my thing about the not having seen even a second of it isn't totally true. I know some of the scenes in which the songs are, and have seen the actual full scenes of "Do You Hear The People Sing", and "A Heart Full Of Love", and various clips of my favorite cast, the one with Lea Salonga and Michael Ball in it. I love soooooo many songs from this! I like "Look Down" when it's done right, I love "The Trial", and the "Epilogue", I like "Stars", I absolutely love "
Empty Chairs At Empty Tables
", and I like "One Day More". However, my favorite song above all of them is also the one that I cannot stand any of the casts singing anymore. My favorite song in Les Mis is "Bring Him Home", one of the most beautiful, meaningful songs that was ever put into theatre, in my own opinion. However, like I said, I can't stand any Jean Valjean singing it anymore. Why? Because of
this
. A link to David Miller singing "Bring Him Home". David Miller, the American tenor member of Il Divo sang it so angelically, I felt as though it was really an angel in his form. I do warn you about listening to it, though. If you do, there will never be another version of "Bring Him Home". Never was anybody so God-blessed in skill and beauty of voice as was David Miller. And he definitely raises that gift back
up
when he sings this song.
So beautiful...

Kiss Me Kate
I actually don't even know a whole lot of the numerous songs from this one. I have only heard select few, but I loved each one of them. I have heard "Wunderbar" and "Brush Up Your Shakespeare" most prominently among them. The first one was a brilliant, operatic duet between the singing couple of all musicals, Katherine Grayson (an insane soprano) and Howard Keel (remember Seven Brides For Seven Brothers?). "Wunderbar" was a splendiferous, German-cultured duet (I say German-cultured because it was very German-sounding, but it was actually sung in English except for the word "Wunderbar"). As for the second song.... *laughs* Well, I have rare heard such an amusing song that had to do with Shakespeare. Most of the Shakespeare I have had experience with was more to the dramatic and sad side, so I laughed and laughed when I heard this surprisingly amusing song. While I have never seen this show, I do hope to hear "Brush Up Your Shakespeare" again sometime soon. Not to mention the deliciously hilarious-sounding plot (which does not consist of any love triangles - don't be fooled by the above picture!), that plot being partially based off of "The Taming Of The Shrew". Maybe, just so I can see it and understand the play the characters in it are putting on (which is The Taming Of The Shrew itself), I'll brush up my Shakespeare. ;)
Camelot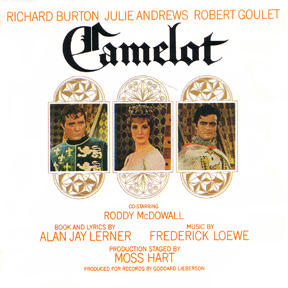 Oh, I love the music from this! I even have the original cast soundtrack to prove my obsession. :D Especially "Camelot" and "If Ever I Would Leave You". Although, I also love the hilarity of "You May Take Me To The Fair", "What Do The Simple Folk Do?", and "I Wonder What The King Is Doing Tonight". And "How To Handle A Woman" is also funny after a fashion, but very sad if you think of it in the light of the story. "C'est Moi" is pure frustrating laughter if you think of who the person singing it is (that being the arrogant and very flawed Lancelot himself). My only regret for never having seen this one, and not trying to, is that I can never see the only cast I would have ever wanted to see. I can never see Richard Burton as King Arthur, or Robert Goulet as the despicable but amazing-voiced Lancelot. I even somewhat regret never seeing Roddy McDowall (Mr. Creeps himself!) as Sir Mordred. I shall, however, never stop singing "Camelot" about the house, or being sad of the ending of that play which I've never seen.
Phantom Of The Opera
I never saw this because I have heard some rather unsavory things about scenes in the movie. And some rather disturbing things about the terrible quality of the singers in it. And obviously I don't see the Broadway traveling cast of it come my way every single day, so I have not yet had the chance to see it. But, I love songs "The Phantom Of The Opera", "Think Of Me", and "All I ask Of You" from it. And while I don't particularly like the lyrics to any of them, "Prima Donna", "Music Of The Night", and "Masquerade" get seriously stuck in my head. (Psst! The best version of "The Phantom Of The Opera" is by Sarah Brightman and Antonio Banderas!) I liked the story well enough when I read the book, but it was a little weird. And I am rather ashamed to say that, putting aside his rather edgy morals, which I decidedly do NOT support, I was always on the Phantom's side... :P I do not like Raoul! I guess that wraps it up. It's uncanny how many musicals I like that I have never even seen. I really want to see some of them. Then there are some others that are better left alone for the moment, at least. But, whether I am ever going to see them, or whether I plan on steering clear, I'll keep on listening to the beautiful music of these ten musicals.



What say you on the matter? Have you seen any of these? Do you like the music? Are you sighing over the fact that some of the best casts in these are no longer performing? Perhaps are you agreeing on my resolutions to watch some and not watch others? Maybe one of these is a beloved musical to you? Maybe you could give me recommendation for one...? Is any other blogger having these formatting problems with the spacing on posts?!